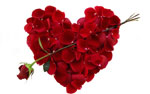 Valentine's Day is almost upon us!The history of Valentine's Day is shrouded in mystery. Some believe it originates in 3rd century Rome with a priest named Valentine. In an act of defiance to Emperor Claudius II, he performed many a secret marriage. Others believe in more pagan origins, namely the celebration of Lupercalia which was also a fertility festival. After the sacrificial rituals, women and men were matched by drawing names from an urn. Often this led to marriage! Whatever the origins, sexy gift giving is a perfectly romantic ritual for the modern ages! Browse our range of adult toys, lingerie, and more. Check out the Romance section as well as our special Valentine's Day menu where you'll find our hand-picked adult products, perfect for a naughty Valentine's Day!"
We know that many of our customers are looking for the latest adult toys. The team at Lovers attend the top adult trade shows around the world to source the latest and greatest products for our adult shops. By developing close relationships with worldwide manufacturers as well as local distributors, you can be assured that the pick of the crop of new release adult products are available to you right here!
We track the most popular and best selling adult products instore and on our website and trends in the best selling sextoys quickly become apparent. We listen to our well-trained and experienced staff, as well as the feedback we receive from the customers in our retail stores.
Our highly-trained enthusiastic staff spend their shifts helping customers of all ages and walks of life. It is this experience and listening to feedback that results in us selecting only the best products for inclusion in the list of recommended sextoys.
Lubricants are a must for enjoyable adult play. Applicable to a variety of intimate situations, there is no reason to scrimp on lubricants. A quality lubricant is a must for vaginal dryness and for anal intercourse, but can be used in many intimate situations to enhance pleasure!